Send us your questions or book an appointment!
Canine Cleaners is a full-service dog grooming salon. In 1993, it started out with two sisters and has grown into a salon with four wonderful groomers with many years of experience.
At Canine Cleaners, we believe your pet is as special as our own pets. We specialize in making sure your loved one is well taken care of. Please feel free to stop in for a visit or call us at 952-469-2200 so we can answer any of your questions.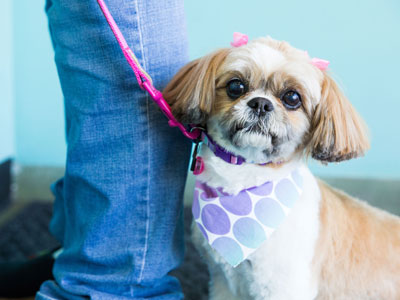 Beth
I am the owner of Canine Cleaners since 1993 and still grooming full-time. I believe that being a business owner and putting your heart and soul into something you love makes every day amazing. I am also a full-time mom and have two wonderful children with my husband. Plus, I have a loving boxer named Paisley.
Rachel
In 2004, I received my certificate from the Cutting Edge Dog Grooming School, and I have been grooming dogs since. I started grooming at Canine Cleaners in 2004. I really enjoy my job and all the animals. My favorite dogs to groom are double-coated breeds. I have two large beautiful Newfoundlands and three cats.
Laura
I started as a bather for Canine Cleaners in 2009 eventually trained to be professionally groomed dogs through canine cleaners. I really enjoy working with puppies for their first grooming. As of now I don't have any dogs of my own but I definitely get a lot of love from the dogs at the shop.
Alexandra (AL)
I have been working with four legged friends since 2009 and have been a professional groomer since 2013. I started with canine cleaners in 2018. I have an affinity for working with dogs that may need a little bit extra love and attention. My favorite breeds to work with our Poodles, Pomeranians, and Bichons, but I love all breeds. I have one cat, two guinea pigs, and a crazy little dog name Freezebe.
Reach out and we'll make sure to get back to you ASAP!
We promise to never send you spam!